Alma Mahler-Werfel & Venice
Venice ranged among the most significant places in Alma's life.
Alma & Klimt in Venice
It was in Venice when painter Gustav Klimt chased after her in the small streets and places to secretly embrace and kiss her when Alma was still a young girl of 18.
| | |
| --- | --- |
| | |
| | |
| | Alma (links) und ihre Familie 1899 am Lido von Venedig. Rechts: Klimt |
| | |
"Once, in Venice, we were standing on a bridge, staring into the black canal (it was night-time), in front of us the magnificent arch of the Bridge of Sighs. We were leaning on the parapet, Klimt standing at my side, the others further off. Suddenly I could feel Klimt's fingers pulling, tearing at my collar. As I was leaning on the stone, the neckline was tight. Before I could realize what he was about, everyone moved on, and we had to start walking too, but further behind. As was his wont, he pinched my arm, whispering: Silly girl, Alma, I could have put my hand on your heart—easily. A cold shiver went through me, my heart missed a beat. He wanted to feel my breasts! Or did he want to see how fast my heart was beating? The former would have been lechery, the other love—un­fortunately I'm sure it was the former." (From Alma's Diary on Wednesday 24.V.1900)
| | | |
| --- | --- | --- |
| | | |
| | | |
| Anna Mahler | | Manon, Franz Werfel und Alma am Markusplatz |
Casa Mahler
In 1922, Alma bought a house in Venice, near the San Toma church, and called it Casa Mahler. There she spent many months together with her beautiful daughter Manon Gropius and her third husband, Franz Werfel. It had a garden and a magnificent old gate, "under government protection as an historic mounment" as she wrote in her diary. Alma installed two bathrooms, and also enlarged one of the rooms in preparation for Franz Werfel. There she stayed till 1934. One evening in Venice in April 1934, Manon complained of an excruciating headache; within just a few hours, she was paralyzed. The cause was polio, and she was seventeen years of age. She died very suddenly, on Whit Monday in 1935. In remembrance of Manon Gropius, Alban Berg composed his violin concerto, dedicating it to »the memory of an angel«. Already the same year Alma and Werfel went to Venice to sell the house in which they had been so happy but which now held so many painful memories.
| | | |
| --- | --- | --- |
| | | |
| | | |
| Casa Mahler | | Franz Werfel, Alma und Manon am Markusplatz |
Casa Mahler is now going to be transformed into a small, luxurious hotel, and will open as early as June 2002. We are happy to offer our guests the marvellous possibility of staying in Venice for our show in the very place where Alma had lived for so many years. Please contact us for further information.
Death in Venice
In his film "Death in Venice" Luchino Visconti coined a tribute to Mahler's genius by using the beautiful Adagietto from Mahler's fifth symphony. The Adagietto Mahler dedicated as a "love letter to Alma".
| | | |
| --- | --- | --- |
| | | |
| | | |
| Carl und Anna Moll | | Alma vor dem Campanile |
Alma & Kokoschka in Venice
In the spring of 1922 Alma met Kokoschka in Venice by chance and wrote in her diary: "Strangely close yet distant ... His face is reverting to childhood, There- is something of Dorian Gray about him. Somewhere his vices must be making their mark." Alma was impressed by his pictures that were on show at the Biennale in Venice, including the so-called Verlobungsbild (Engagement Picture) and also the Frau in Blau (Woman in Blue). She also wrote a letter to him: "...why we re you in such a hurry in Venice - it made me sad. I was at the exhibition - you are so unbelievably strong, and your new pictures are unforgettably wonderful. Write to me - Weimar Bauhaus. I am leaving here now ..."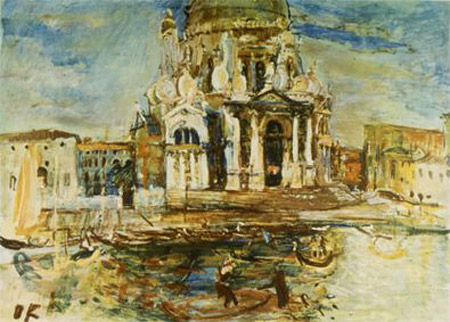 Venice, Santa Maria della Salute I (1927), Oil on canvas, 73 x 101 cm
The next time she saw Kokoschka was at the Teatro Fenice in Venice on October 8, 1927. On the previous day, he had painted a second version of the church Santa Maria defla Salute from the roof garden of the Europa Britannia Hotel where he had been staying since the end of September. He had made the first version of this view from the balcony of his room Alma Mahler saw the artist again the following day and described her "distant encounter': "He was red in the face, looked red, and Anna and I could not be sure whether he had seen, us or not. We let him go by without drawing attention to ourselves. But now this card has just arrived: 'l am as short-sighted as ever and can't see even see ten paces away. But unhappily I sensed you straight away... despite the distance... Greetings to you, and Gucki. Oskar` It is as though all our hatred has dissolved because of this piece of paper. A flood of roses came with the card and filled my house."
On July 23, 1937 Alma wrote in her diary that she was intending to send the following letter to Kokoschka. "Now you are fifty years old - without me - and it seems to me as if despite everything we have lived this time together - although physically apart. I know much about you, as you do of me - and you also know that my life suffered a death-blow in the unbearable death of my child Manon (Manon died at Easter 1935). You barely knew that wonderful creature; in her illness she grew far beyond us all. And if Alban Berg has dedicated his last work to her as an angel, then that is no more than what she had become. Nothing gives me Joy since then and even if I may still seem to be full of hope or to relish the future, then it is only that appearances deceive. Now you know about me, and so I ask you, now tell me about your life.
It made me very happy to see all your pictures together. 'You go right to your own limits,' you are always the same and always different. I woke up extremely early this morning and a rainbow led from my day across the Rax to a distant valley. And I felt that you have forgiven me. I ask you today, let go of any bad feelings about me, stretch out your hands to me - I want no more from you other than to know that we are at one with each other again, which we in our innermost hearts have never ceased to be. Alma." It is uncertain whether or not this letter ever reached Kokoschka.
In summer 1949 Alma received one of her last letters from Kokoschka: "My dear Alma! You are still a wild creature, just like the first time you were swept away by Tristan and Isolde and used a quill pen to scrawl your comments about Nietzsche in your diary in that same hasty, illegible script which I can only read because I know your rhythms. Ask the friends who are preparing your birthday celebrations not to tie you down to some silly, transient calendar year. Tell them that they should put up a living, lasting memorial, that is, they should find some real American poet with a sixth sense for language, its structure, its rhythm and its intonation - one that knows the whole range of our emotions from tenderness to the most lascivious sensuality, one that could extract them from my "Orpheus and Eurydice" and translate them into American (not modern English) - so that wt,-,can teff-the world, what we two did with each other and against each other, and can pass on the living meaning of our love to those that come after us. Since the Middle Ages there has been nothing that could compare, for no loving couple has ever breathed so passionately into each other. - So, there is a good plan for you and since it will take time to carry out, you should just forget about the calendar. I don't even know when I was born and I don't want to be reminded of it either. I am looking forward to staging my translated 'Orpheus' and at the same time inspiring the younger generation with the fire that we set burning. We two will always be present on life's stage when loathsome banality and the triviality of contemporary life have to give way to splendour born of passion. Look at the faces around you, dull and prosaic as they are - not one has known the tension of the struggle with life, of enjoyment, even of death, or of smiling at a bullet in one's head, a knife in one's lung. Not one, except your lover, whom you once let into your secrets. Remember that this game of love is the only child. that we have. Take care of yourself and no caterwauling on your birthday. Your Oskar."
For Kokoschka also had it in his heart to forgive.
In the spring of 1913, from 30th March to 10th April, Alma and Oskar Kokoschka went on a trip to Italy together which also took them to Venice. Here, Kokoschka produced numerous veduta-like pastel drawings in which he successfully recorded the lively and colourful life on the water.
Venice, 1913 (View towards San Giorgio Maggiore)
Venice, 1913 (Lagoon)
In a communication to Alma of 24th December 1913, Kokoschka underlined the significance of the silhouette of Venice, which he described as the "calligraphy of the Italian renaissance". And in conversation with Ludwig Goldscheider in 1962, Kokoschka recalled his "wonderful experience" with the paintings of the Venetian artists: "They opened my eyes wide! Veronese, Titian – such colours, such freedom! And as for Tintoretto! It was exciting: I saw how I should paint."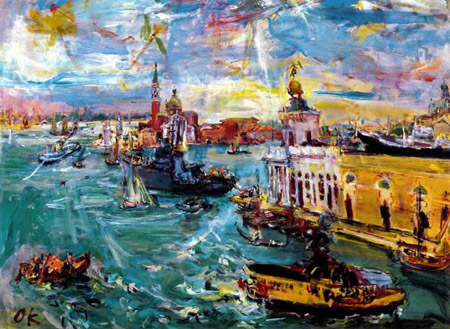 Dogana (1948)
From Switzerland I travelled to Venice. Tintoretto is among those painters whom I revere. From the balcony of my hotel, I painted the "Dogana" with the silhouette of the Guidecca from two different windows, two different perspectives, so that the breadth of my view doubled, an experiment which I subsequently often repeated. I did strength-building exercises with Baron von Hadeln. To test my resistance, he once bent my index finger until it broke. He was very shocked at this, but we were both excessively drunk, and after all, it did keep us from shattering the mirrored panels of the Hotel Danieli with our empty grappa bottles.
(Oskar Kokoschka: My Life, 1974)